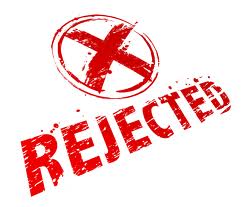 Rejection can damage your spirit and your relationships. Rejection also causes you to be immobile when you have been empowered to move forward with divine power. If you do not make an effort to reverse the impact of rejection, you can lose sight of God's purpose for you. Let's look at how being rejected affects some people.
Some people are more sensitive to being rejected than others. Often times the seeds of rejection are planted during childhood experiences up to adult experiences. Seeds that produce loneliness, low self-esteem, aggression, depression, feelings of insecurities, heightened sensitivity to future rejection, heightened need for acceptance and social isolation.
Having a sense of belonging, of being accepted and of being loved unconditionally are natural defenses against the negative effects of being rejected. Being aware of God's unconditional love makes us stronger and it encourages us to move forward with assurance that the one and only AUDIENCE (the Father) will always accept us even when man does not.
Fear of being rejected comes partly from failing to understand that Christ never rejects his people. This fear of being rejected can lead to defensiveness, aggressiveness, passive aggressive behavior and antisocial behavior.
Some particularly taxing events or demands can cause anxiety or stress if we forget to let go and let God in. If God brings us to it, he will bring us through it.
Being rejected repeatedly causes some people to feel like failures. Even small successes can help reverse feelings of failure. Setting small achievable goals and attaining those goals can help to reverse the negative feelings of failure.

It is said that to be a failure is when we are defeated by failure and refuse to rise and try again. God is not shocked when we fail and sometimes allows us to fail for one reason or another. Trust that there is a good purpose for it.

Being rejected can also make it difficult to accept constructive criticism. By definition, constructive criticism is helpful. It may allow you to see errors in your line of thinking or your future plans.

The impact that rejection may have had on your life can be overcome with Christ. You can get back on track if you make the effort.