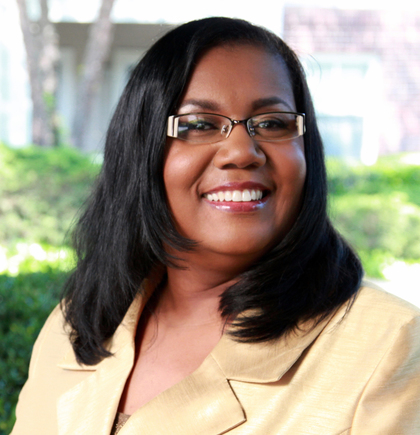 Nanette Floyd Patterson is an Author, Master HIScoach, Ordained Elder , Licensed Professional Counselor and Christian Coaching Business Consultant and Trainer.  She has been an entrepreneur creating multiple streams of income as long as she can remember.  Nanette has always been fervent about empowering others and teaching them how to "go in and possess the land." She began flowing in her gifts of entrepreneurship as early as 17 when she amassed the money to purchase her very first car.  2008, she was a part of the top 10% of successful business owners in the state of North Carolina's health services industry. She selflessly leverages her passion and knowledge to create multiple successful businesses all while putting God first and supporting the gifts of those around her. She learned the importance of taking matters into her own hands by the leading of the Holy Spirit at a young age while growing up with a single mother in a small, factory town in North Carolina.
With the strong guidance of nurturing and supportive mentors who were willing to lead and guide her, she decided to begin a company that assisted the elderly and those with special needs in reaching their goals on a daily basis. She grew this agency into a multi-million dollar enterprise. Having such powerful and supportive mentors demonstrated the power of having someone who cares and can push you toward your full potential in your corner. She dedicates her time and energy to coaching and mentoring entrepreneurs in starting successful businesses and ministries.
This passion for empowering others led her to fulfill a life-long calling of helping others manifest the vision that God has assigned them. She has been gifted with the ability to quickly catch someone's vision which is important for doing what is necessary to manifest the assigned vision. With her gifts of creating fully-empowered organizations, she now shares her more than 20 years of business building mastery with her clients and audiences to guide them in manifesting the vision God has assigned for the advancement of the kingdom. She has successfully balanced three businesses, The Seed Planter Coaching & Counseling, PLLC,  a drop-in child care business and a mental health organization. She is truly a serial entrepreneur. She believes that God gives us the ability to create wealth to edify and further build his kingdom as well as support and serve other. She believes that when God gives a person a vision, He also provides the provision to do what it takes to manifest the vision. She received her Master's Degree in Guidance and Counseling with an emphasis in Career Development. God has blessed her with the gift of encouraging. She is truly a CEO (Chief Encouraging Officer). She has two beautiful boys and have been married for 18 years. She gives God all of the Glory.
A personal note from Nanette:
Over the past 24 years, I have been blessed to truly experience what it is like to manifest a God assigned vision. Through it all I realized that I was going through a process which would prepare me to help others to manifest their God-given visions. Through this experience I have discovered invaluable expertise, gifts and skills in which God had already planted in me to benefit any one who is serious and committed to doing whatever is necessary to manifest their God-given vision. My practice and ministry's foundational scripture is Isaiah 6:8 where God asked the question "Whom shall I send?" and Isaiah responded with "Here I am, Send me."  God continues to allow me to perfect these  gifts to help others manifest their visions.
I am passionate about helping those who are ready to yield to God and manifest their business or ministry. Throughout these valuable years, I was able to build a repetoire of resources, tools and tips that will help individuals actualize their God's vision assigned to them. God revealed to me that there are sincere individuals who have clearly heard from Him about what they are called to do but they feel stuck in quicksand therefore they can't move forward. These individuals need someone to give them a hand to pull them out.  I believe this is my role to help God's children carry out the instructions that He has given them.  I believe that manifesting a vision starts with yielding to the call, conquering any roadblocks and detours, discovering how God expects to use your D.E.S.I.G.N. and carrying out the instructions that leads to manifestation.